Oklahoma
Supercomputing Symposium 2003
Wednesday September 24 -
Thursday September 25 2003
at the University of Oklahoma
---
KEYNOTE SPEAKER
Dr. Peter A. Freeman
Assistant Director
Directorate for Computer & Information Science & Engineering
National Science Foundation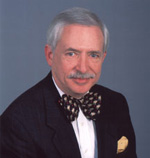 Peter A. Freeman became Assistant Director for the Computer and Information Science and Engineering Directorate (CISE) on May 6, 2002.
Dr. Freeman was previously at Georgia Institute of Technology as professor and founding Dean of the College of Computing since 1990. He served in that capacity as the John P. Imlay, Jr. Dean of Computing, holding the first endowed Dean's Chair at Georgia Tech. He also served as CIO for the campus for three years.
During 1989-90 Dr. Freeman was Visiting Distinguished Professor of Information Technology at George Mason University, and from 1987 to 1989 he served as Division Director for Computer and Computation Research at the National Science Foundation. He served on the faculty of the Department of Information and Computer Science at the University of California, Irvine, for almost twenty years before coming to Georgia Tech.
He co-authored The Supply of Information Technology Workers in the United States (CRA, 1999) and authored Software Perspectives: The System is the Message (Addison Wesley, 1987), Software Systems Principles (SRA, 1975), and numerous technical papers. In addition, he edited or co-edited four books. He was the founding editor of the McGraw-Hill Series in Software Engineering and Technology, has served on several editorial boards and numerous program committees, and was an active consultant to industry, academia, and government.
Dr. Freeman is a Fellow of the Institute for Electrical and Electronics Engineers, the American Association for the Advancement of Science, and the Association for Computing Machinery. He received his Ph.D. in computer science from Carnegie-Mellon University in 1970, his M.A. in mathematics and psychology from the University of Texas at Austin in 1965, and his B.S. in physics from Rice University in 1963. His research and technical expertise has focused on software systems and their creation.
Talk Abstract
Cyberinfrastructure: The Future and Its Challenges
The value of cyberinfrastructure is well understood by many, as illustrated in the Atkins Report submitted earlier this year to NSF, and by the research of many attendees at this symposium. The shape of the future of cyberinfrastructure is starting to emerge, along with some of the challenges we will encounter as we move into that future. This talk will explore these topics.
Slides: PowerPoint PDF HTML
---